A little story of two completely different girls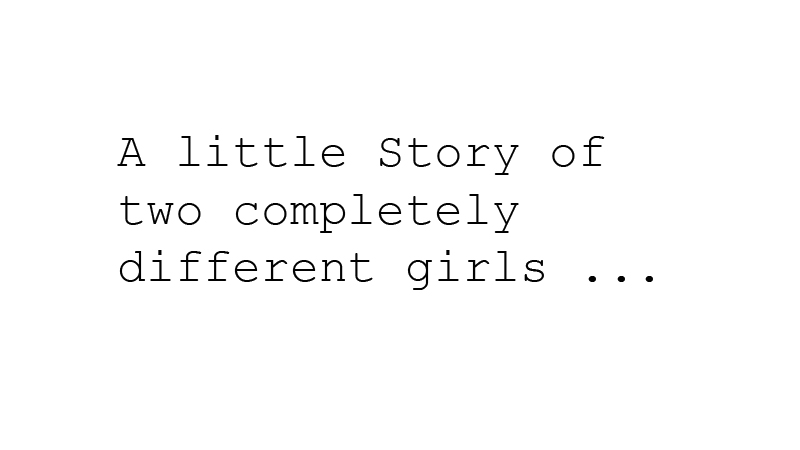 There were Milley, a little princess in the age of 12 and a homeless girl called Syndy, who was only 9 years old.
One day, princess Milley went out of her castle for a weekend-trip to Miami, when she saw a little girl near her favourite tree in the garden. "Hey, girl come here", cried one of Milley`s bodyguards, as he saw the little girl. But she was too shy to come to the castledoor.
Then princess Milley had the idea to go to the girl, and ask her what she wanted in the royal garden. So she asked the girl: "What do you want here? I´m princess Milley, but please call me Mimi. How can I call you?" "Don´t tell it the king, please. I don´t have a family and now I´m going to search a new home for me and my dog Flint, oh and you can call me Syn.", said the shy Syn carefully. Princess Mimi tought about it, and said then: "Oh you poor things, maybe you want to sleep in my old shed? I have to thing about it this night, because I don´t think that my dad would be so happy to see a homeless girl in his castle. I can bring you some food everyday." "Oh yes, please. It would be a great idea.", said Syn a bit louder, because she isn´t afraid anymore. And so started a beautiful story about two completely different girls.
At the next day, Mimi come back from her trip. To her bodyguards she said, she only wanted to look after her horses. So she run to the shed. The first thing she heard from inside, was something Syn maybe told a horse: "Sweetheart, what a beautiful name for you. I´ll ask Mimi whether I can ride you somtimes. You remind me on my own horse Hotti. He looked like you." Then, there where silence. Mimi slowly opened the door and saw Syn near the stable door of Sweetie. She had tears in her eyes. "I didn´t know you have horses princess Mimi! He looks the same like my own horse." ,Syn said and nearly was crying again. Mimi didn´t know why Syn said Sweetie looks like another horse. So she explained: "I also didn´t know that you have an own horse. Why isn´t it with you?" "My stallion called Hot runner, because he was very fast. And then the army of my dad had a big effort in India and he wanted Hotti for his guys. And in one night he stole my horse, the horse of his daughter. I only have a black and white picture of him. So nasty! And at the same day my mother disappeared and my father skip out of town with his army and my Hotti. And from yet to then, I´m homeless.", Syn told Mimi furious.Mimi don´t know what to say. But then, she had an idea. "Come on Syn we´re going to my dad now. I´m sure, if you tell him this story, he let you live in the castle. But first, we´re going to do a ride together. You on Sweetie and I gonna ride Belle, the black one over there." "But Mimi, I can´t go to the king! He would hate me. You said it, too!" "No he wouldn´t, because I go with you.", Mimi said.
After a three hour ride, Syn, Flint and Mimi went to the king´s reception room. "I can´t", said Syn fort he hundredth time. But Mimi forced her to go. If they where in, the king grunted what his daughter wanted from a homeless girl, and suddenly Syn was shy again. But after Mimi told her father the whole story, he invited Syn to live with them in the castle how long she wanted. And he also said: "If I can find the army of Syndy´s dad, I would order Hot runner back for the royal stables."
It was only four or five days later, a big transporter comes to the castle. Mimi and Syn, and also the king with his bodyguards run out od the castle. In the transporter was a horse, and as Syn looked in, she started to cry: "It´s Hotti! Oh thank you king Florian. He´s one of my best friends." After Hottiwhre brought to his new stable, Mimi, Syn and the king went back to the transporter, the driver waited fort hem. He told them: "We also searched your dad Syn, but we couldn´t find him, everyone said he died in the battle. I´m so sorry Syn." Syn started to cry again: " So I can´t go home forever? That´s so bad. Life is so unfair! There are people like Mimi, who have everything they wanted, they have a big house, a family and lots of friends. And then, there are people like me: We don´t have anything, no family, no home and only one or two friends!" After this, Mimi´s dad adopted Syn, so now she´s a half princess, too.
Now Mimi is 24 years old and Syndy is almost 22 years old and both -A princess and a homeless girl- live together in the castle at once, and do everything for fairness on our earth.
I hope everyone understand that Syn's completely right when she said "live is unfair, so I hope everyone can help to do somthing for fairness on earth!